When you hear safari, you think Kenya. Those two words are synonymous with each other in the travel industry. Located in East Africa, it is home to a great diversity of wildlife, beautiful scenery, sandy beaches, exquisite food, breathtaking landscapes and warm cultures. Nairobi, its capital, is always full of activity being one of the fastest growing cities in Africa. The Great Rift Valley gives you a great insight into the different cultures and the northern parts of the country have various reserves and conservancies for the protection of wildlife.
Maasai Mara
It borders Kenya and Tanzania forming a wildlife corridor between these two countries. It is located in Narok County. You will get a chance to experience one of the most interesting game reserves. The name Maasai comes from the neighboring community that resides in that area. These are pastoralists who have been grazing in the reserve for centuries. The area is covered by vast grasslands and acacia trees.
It hosts the great migration of thousands of wildebeests, zebras, and gazelles to and from the Serengeti. This happens between July and October. Crocodiles and hippos have their habitat in the Mara River along with other predators like lions, leopards, and cheetahs. They are mostly seen in the dry months of December to February. The weather is mild all year long.
Amboseli National Reserve
Also home to the indigenous community of the Maasai, the name Amboseli is a Maasai word that means salty dust, perhaps in reference to the conditions of the reserve. It neighbors Mount Kilimanjaro, the highest mountain in Africa and is a favorite getaway. If you want to see elephants up close walking in herds, Amboseli is the place to be. There are also hundreds of bird species and big cats in this broad expanse of land. In addition to the wildlife, you will be greeted by the site of Lake Amboseli, woodlands, savannah and wetland habitats.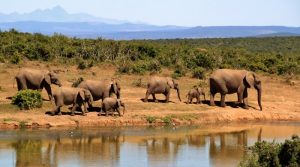 Tsavo National Park
This is the largest park in Kenya and it is divided into two; Tsavo East and Tsavo West. It is a sight to behold with waterfalls, savannah vegetation, lava-rock plateau, wildlife, and rivers splitting into rapids. It is here that you are most likely to see elephants bathing in the red dust. The dense vegetation present in the park may hinder you from seeing some of the wildlife. Other than that, the scenery of this park is breathtaking.
Lake Nakuru National Park
A visit to Lake Nakuru national park is met by huge flocks of pink flamingoes wading in the water beautifully. It is a rich source of bird species and has been named an Important Bird Area (IBA) and other wildlife is present too. The landscape comprises of woodlands and rocky cliffs. The area is an arid area that hosts the largest euphorbia forest in Africa.
Lake Naivasha
One of the best ways to view the area is by boat. It is a haven for hundreds of birds and is also considered an IBA. It is located at the highest point of the Great Rift Valley and has a wide diversity of wildlife. To the south, it is bordered by Hells Gate National Park.
Hells Gate National Park
A favorite spot for climbers, this is one of the few parks that allows camping, cycling and on foot expeditions. If you want to experience hiking, Hells Gate is your desired destination. There are two extinct volcanoes in the park and an ancient volcanic plug. It is also very popular for its geothermal features such as hot springs and geysers. Olkaria Geothermal station lies within this national park.
Mount Kenya National Park
This is a UNESCO World Heritage site with a good view of equatorial snow at its peak. It has three glacier peaks that are frequented by climbers. Sometimes the weather poses a big challenge while climbing but nothing beats the feeling of reaching the top. There is also a great diversity of animals and plants, alpine forests, bamboo thickets, etc. There is a luxury retreat in the foothills of the mountain, Mount Kenya Safari Club, where you get to enjoy tennis, fishing, and even golf.
Nairobi
Kenya's capital, it has a colorful colonial history and was once the capital of the British East Africa. It is one of the fastest growing cities in Africa and is always abuzz with activity. To see the history, art, and culture, Nairobi National Museum is a good place to visit. The Karen Blixen Museum is also a wonderful place to stop by if you appreciate art and history. Your Nairobi tour cannot be complete without a visit to Nairobi National Park, (just a few minutes from the city), and Giraffe center.
Mombasa
This is the second largest city in Kenya, after Nairobi, and the biggest port. It is rich in exquisite cuisines, historical background, wildlife, sandy beaches and architectural sites. Wasini Island and Mombasa Marine national park are some of the areas where wildlife has taken up residence. You will enjoy exploring narrow streets, traditional Swahili dwellings, Old Town and Fort Jesus, and the history buffs will particularly enjoy it. White Sands at the beach for beach lovers are also a favorite for tourists.